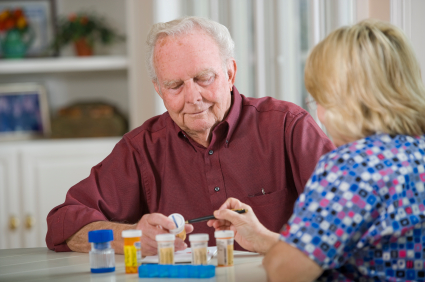 Garden State ElderCare is committed to quality home care and professional geriatric care Garden State ElderCare is committed to quality home care. Through our customized care Home Care services, we strive to provide personal care and superior services to satisfy individual and family needs on multiple levels. We take pride and remain committed to our clients. We are capable of rendering highly dependable personalized care plans. We provide full assessments to determine the level of home care that is needed for each client. We provide 24/7 on call telephone assistance service to all our clients throughout the year. On receiving a request for our home care services, we offer an initial complimentary consultation.
Our Unique and Comprehensive Approach Toward Better Elder Care Management:
Assessment
A Social Worker and a Registered Nurse meet with the family/client to better assess and evaluate the situation. Based on the discussion and an initial evaluation of the client's personal and medical needs, our RN will prepare Plan of Care that details the daily services our aide will assist with.
Assistance
Post assessment, the next step is to confirm the plan of care and review all service agreements for the client and his/her family.
Services Provided:
Hourly Care
Live-In Care
Alzheimer's/Dementia Care
Medication Reminders
Transportation
Meal Preparation
Bathing/Incontinence Care
Light Housekeeping
Transferring/Mobility Assistance
Overnight Care in the Hospital
One-One care in Rehab or Nursing Home
Nursing Services Covering:
Providing medication management; to insure clients take all medications in proper dosages.
Monitoring of the client's vital signs by our nursing staff
Educating the patient as well as the family, providing family/caregiver support and guidance
Establishing a care plan and schedule with our Certified Hourly/Live-in Home Health Aide Services
The trained and experienced caregivers at Garden State ElderCare are routinely supervised by a Registered Nurse. Our caregivers are dedicated towards their profession and compassionate towards the elderly. As part of their home care responsibilities these caregivers assist the elderly in:
Bathing, dressing, and grooming
Light housekeeping covering meal preparation; homemaking tasks; laundry; and errands
Medication reminders
Advocacy
We understand that quite often; our elderly and their families require guidance to be able to navigate the healthcare system and efficiently locate resources when needed. Our Geriatric Care Managers consist of social workers and nurses. We provide an assessment and develop a realistic plan of care.
Evaluate Your Needs by:
Identifying the community resources and programs available
Coordinating services with physicians and other professionals
Assisting with long-term care arrangements/placement
Providing assistance regarding benefits and eligibilities for services
Our services encompass:
Counseling
Relocation Assistance
Family Conflict Mediation
Household Management
Crisis Intervention
Our Mission and what we are most passionate about is caring for the Seniors who cared for you when they need it the most.